Below is the review of Orthopedic Medical Group that was left on Google Maps by Gloria Gullien.
Sloppy clerical work has long plagued these orthopedic doctors, and my opinion is that it puts patients at risk.  Dr. Gonzalez of Riverside failed to inform the surgery center that I had sleep apnea.
With so many great orthopedic surgeons in the Riverside and the Inland Empire area, why settle for this?
---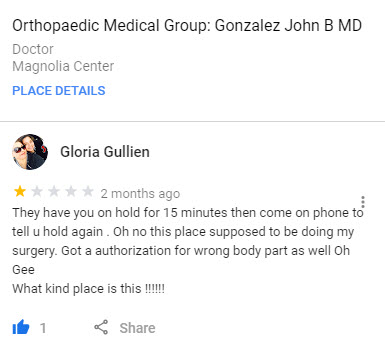 They [Orthopedic Medical Group of Riverside] have you on hold for 15 minutes then come on phone to tell you hold again.
Oh no this place supposed to be doing my surgery?
Got a authorization for wrong body part as well….
Oh Gee What kind place is this !!!!!!
See original review for Orthopedic Medical Group Riverside
---
Have you had an experience with OMGNET that you would like to share with others?  If so please comment here or reach out to me and I will give you all of the room you need to share your story.