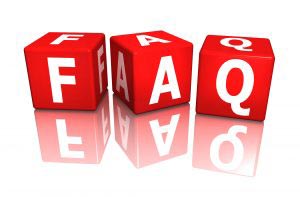 Frequently Asked Questions
Here are some common questions people have after reading through the site.
Is This Site Affiliated In Any Way With Orthopedic Medical Group?
This site is in no way affiliated with Orthopedic Medical Group of Riverside.  I was a patient of Dr. John Gonzalez and Orthopedic Medical Group but have had no contact with them since they mistakenly shipped my medical records to my home instead of directly to my new doctor (as would be customary).
Are You Concerned About Being Sued For Slander or Liable?
Luckily the truth is an absolute defense against both slander and liable, and the first amendment gives me the right to my opinion.
This entire site is based on my personal opinions that were formed by direct involvement with Dr. John Gonzalez, the staff and corporate officers at Orthopedic Medical Group's Riverside office, and staff at the surgery center.
Is also based on what I have read about other doctors at Orthopedic Medical Group-  Dr. Robert Jaspan, Dr. Sunny Uppal, Dr. Michael Mai, Dr. Peter Sofia, Dr. Jack Akmakjian, Dr. Donald Kim, Dr. Lawrence Walker, Dr. Neil Hallbridge, Dr. William Navigato, Dr. Abraham Argun, Dr. Bryant Leung, Dr. Richard Biama, and Dr. Stephen Suzuki.
Whereas I have tried to state facts as facts (i.e. the wait time for my appointments averaged nearly 2 hours), and opinions as opinions (I think Dr. John Gonzalez enriches himself by making patients come in for frivolous appointments) there may be a situation where an opinion is stated, written, interpreted, or assumed as a fact. If there is any misunderstanding, please contact me for clarification and/or correction.
The criterion applied to the whole site is that a fact is something measurable that can be proven (i.e. wait times, length of scar, etc.). Those things for which I do not have documented measurable proof are expressed in this site as opinions and should be treated as such.
Why Are There So Few Orthopedic Medical Group Reviews on This Site?
When this site was originally created, I used an opensource software called PHPBB, which is a bulletin board software that allowed for others to automatically post. There were a number of stories about the abuses at Orthopedic Medical Group, but due to the onslaught of spam-bots automatically posting everything from Viagra ads to get auto insurance quotes, and because there were some security updates that weren't done by me timely (always update your software), the database that contained stories got corrupted and lost.
I anticipate with the face-lift of the site, and the updated security, that their will be additional stories posted soon.
How Can I Add My Story To Your Site To Warn Others About The Doctors At Orthopedic Medical Group?
It is the sole goal of this site to warn patients about how Orthopedic Medical Group of Riverside, and its doctors treat their patients.
As such, I would welcome the opportunity to share your experience with OMGNET.
The best way to reach me is through the contact page.  While the contact page is not set up to automatically accept your story and post it, it will put us in touch with each other and we can go from there.
My Primary Physician Referred Me To Orthopedic Medical Group of Riverside, How Can I Change It?
It is likely your primary doctor is unaware of Orthopedic Medical Groups reputation (and if your doctor was aware and still referred you to Orthopedic Medical Group of Riverside I would find another primary physician).
But just because your primary doctor refers you to one of these orthopedic doctors, doesn't mean that's your only option.
My suggestions are:
Ask your doctor for a list of referrals so you can decide which one you are most comfortable with. Usually they have a list, but often fall in the routine of just directing patients to the same specialist over and over.
Call your insurance and ask them what other orthopedic doctors are in-network and get a list from them.
If you are directed to only Orthopedic Medical Group of Riverside (because they are the only in network), tell them you are not comfortable with the doctors there and ask what type of appeal process there is.
There is a little-known secret that a doctor can be the one to refuse services. So, consider the ways you might make a doctor refuse to provide services to you (maybe mention you have a malpractice suit with your last Orthopedic Surgeon). When they refuse, the insurance company will likely have to make accommodations to cover you.